The Whole School Food Approach (WSFA) is a method used to achieve a healthy and sustainable food culture in and around schools. The first WSFA guidelines were recently published. They describe this method and provide a framework for schools, cities and regions, defining starting points, implementation measures, stakeholder roles and evaluation criteria. With this document, SchoolFood4Change aims to assist the schools and local and regional authorities that are taking action to implement a community-wide (school) food system change! Thanks for the food! It's time for a new menu.
"Our guidelines will help school staff and local as well as regional authorities across the EU understand, what this approach is about and what steps to take to achieve change. It is work in progress: On a regular basis, the WSFA Framework will be reviewed and improved. In addition, we are currently developing a set of practical tools and good practices from all over Europe. These tools will soon be available on the SchoolFood4Change website!"

– Annelies Smets (Rikolto Belgium),
responsible for development and implementation of the WSFA within the SchoolFood4Change project
A Healthy and sustainable food culture in and around schools
SchoolFood4Change sees schools as catalysts for sustainable food system change, integrating food and education. The Whole School Food Approach is built on this powerful assumption, contributing to a community-wide systemic shift. It addresses the composition of school meals and the functioning of school canteens. It includes practical teaching, learning activities and the active participation of pupils and teachers, and involves the wider school community (including caregivers, farmers, businesses, authorities and civil society). As such, the Whole School Food Approach, framed in the guiding document, serves as a basic reference, toolkit and key source of information for schools, cities, regions. It is dedicated to all the brave pioneers and change makers who have recognised the need for change!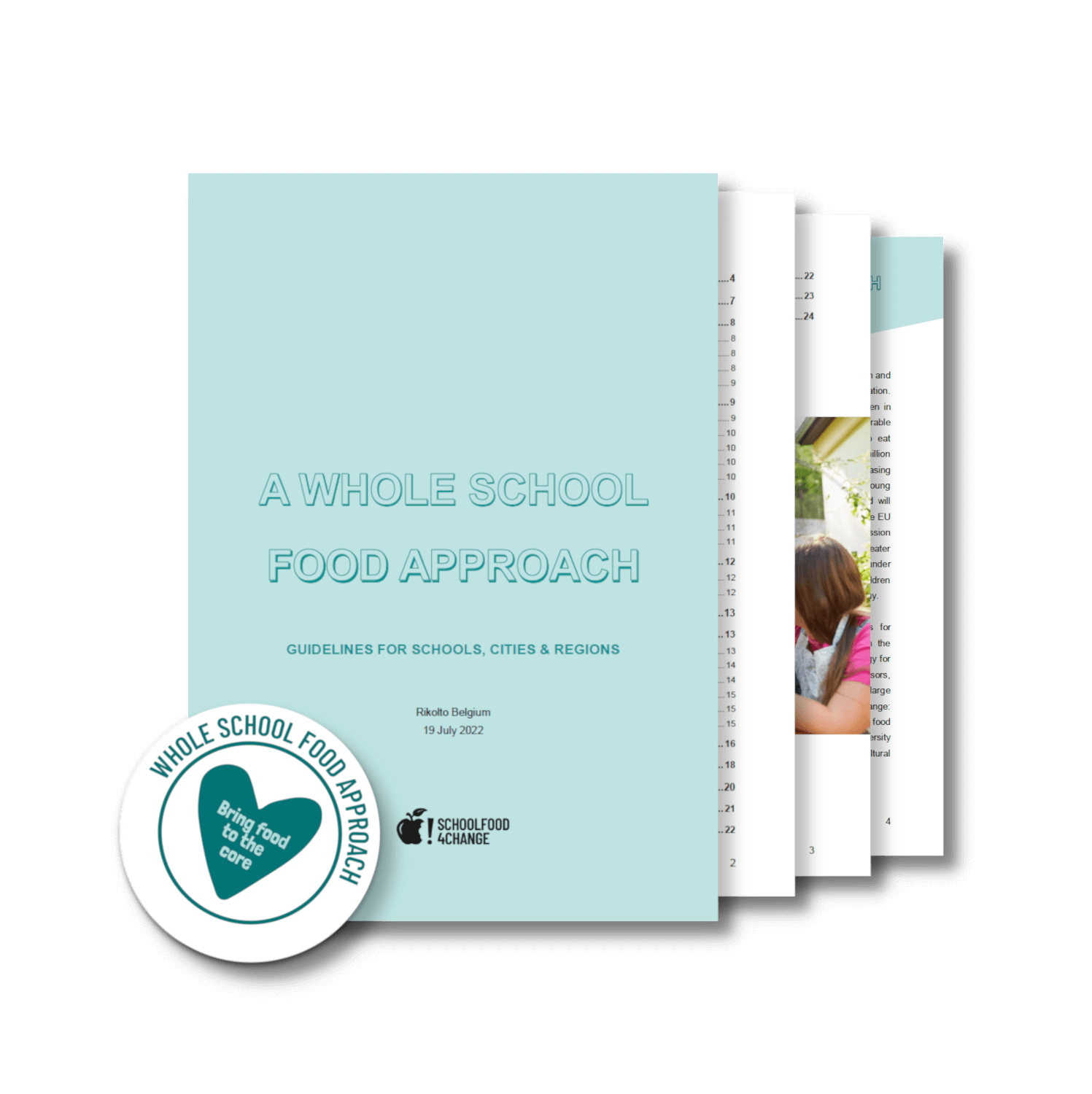 You think it's time for a new menu
– but you still need to find the right ingredients to stir up food-related processes in your school or municipality?
The Whole School Food Approach framework will guide you by…
describing and explaining in detail the four WSFA pillars (Policy & Leadership; Food & Sustainability; Education & Learning; Community & Partnership) and their different components;
listing all relevant actors in and around schools, who need to be involved for the successful implementation of a Whole School Food Approach, and their respective responsibilities;
providing a step-by-step guide on how to develop a Whole School Food Policy;
outlining how local, regional and national authorities can support and guide the implementation of a Whole School Food Approach, and giving specific examples of tailored support measures and coaching;
introducing the three levels of the Whole School Food Approach (Bronze, Silver and Gold), which recognise the achievements of schools that keep improving and transforming their food culture.
What we eat has always evolved
The Whole School Food Approach guidelines describe how a holistically designed approach prompts community-wide systemic change and positively affects education, school democracy, sustainability, inequality, community and health. The framework constitutes the baseline and will be supplemented with additional tools and guiding elements to be developed within the SchoolFood4Change project to support schools, cities, regions and stakeholders in facilitating a broad shift to sustainable, healthy diets.
Would you like to learn more about the Whole School Food Approach? Click here…